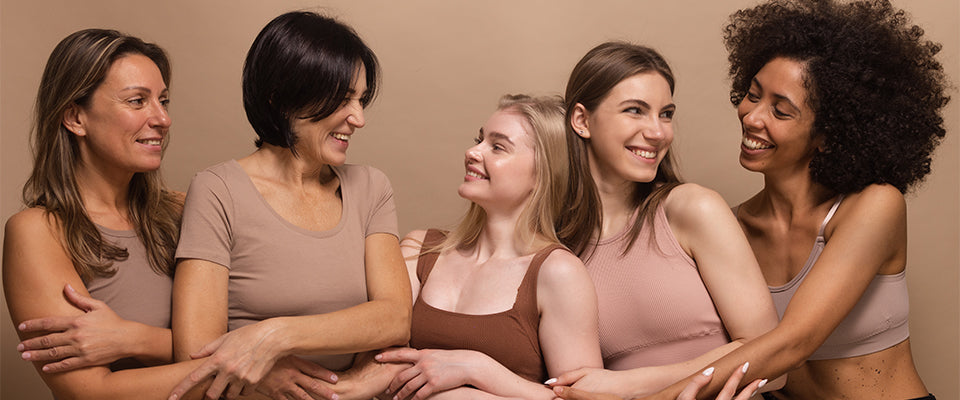 International Women's Day: Wednesday 8th March
International Women's Day is fast approaching, and with this year's theme 'Embrace equality' - we couldn't help but think about how women can take back their own sexual health and feel more empowered than ever in protecting themselves from sexually transmitted infections, HIV, reducing the risk of pregnancy as well as addressing gender inequality and societal norms.
With this in mind, let's explore how to increase our own sexual empowerment, tackle a few sexual inequality myths as well as find out how we can protect our own sexual health as women. 
How do I increase sexual empowerment?
There are many ways you can increase sexual empowerment this International Women's Day - but here are just a few of our favourite; 
Expressing your sexual needs and desires to your partner - feel confident knowing that your sexual needs matter too, so don't feel afraid to speak up if there is something you have been keen to explore or something that you would rather remove from your sex-life. 

Having a healthy relationship with our bodies; eating healthy and exercising regularly can have a positive impact on our physical and mental health - which in term increases our sexual empowerment, making us feel more confident. 

Take time out to give yourself self-pleasure - get to know your body really well, what sensations feel good, the rhythm and speed that you like to be touched, any ultra sensitive parts - having this knowledge then means you are easily able to express to your partner about what feels good. 

Feeling confident about being able to purchase and carry condoms - whether you have a partner or not - knowing that you can have full control of your sexual health can feel very sexually empowering. 

Start taking the lead in sex - what positions do you want to get into? Which positions feel most pleasurable for you? This could be a fun way to try out new positions that you may not have experienced before. 
Sexual inequality myths
Myth: Sexual intercourse is all about the male orgasm
This is false. One of the main myths that circulate is that sexual intercourse can often primarily be for male pleasure - with some women feeling like because they can't orgasm through sexual intercourse, then they don't get to have an orgasm, or often having to 'fake' it to make their partner feel good. Women deserve to have orgasms when having sexual intercourse or any type of sexual activity and for many women a vaginal orgasm is harder to achieve, and orgasms can only be achieved through clitoral stimulation. This is completely normal - so if you have been faking it, or going without an orgasm during sexual intercourse - it's time to take back control this International Women's Day and feel more sexually empowered - perhaps the first step is to talk to your partner about different ways you would like to experience pleasure.
Myth: Women only use lubricant when they have vaginal dryness
This is one of our favourite myths to debunk - because we love shouting out about how pleasurable lubricant can be, whether you suffer from vaginal dryness or not. Lubricant is not just available for women who suffer from vaginal dryness, it can be used to increase pleasurable sensations, to explore different sexual positions or activities as well as make oral sex that little bit more satisfying. With so many different uses and sensations - if you haven't been using lubricant in your sex-life - you have been missing out on a whole load of additional pleasure, therefore, this International Women's Day, stock up with either our minty fresh, sweet strawberry or gentle light lube. 
Myth: Women don't enjoy sex 
Women have been brought up with many false sexual messages from 'boys won't like you if you give out on the first date', 'you're not allowed to express your sexual desires or needs' or you 'can't be too much' - the consequence of this is that women have grown up not feeling as though they do not have permission to talk openly about wanting sex or enjoying it. But the truth is, women love having sex and experiencing pleasure - so this International Women's Day, take ownership of that - if you love having sex, feel the freedom to say that, talk to your friends about sex or your loved one. 
How can I continue to protect my sexual health as a woman?
Condoms. Condoms not only protect you from sexually transmitted infections, HIV but also reduces the risk of pregnancy. Take back control of your sexual health by buying condoms in advance - with so many different options to choose from; you'll find different ones that will create new sensations and pleasure. Here are three of our favourites to try this International Women's Day;
Our climax condoms - offer the perfect choice of warmness and coolness for twice the pleasure in just one pack. 
Our internal condoms are the perfect condom for female empowerment 
If you have a partner who climaxes a little quicker than you would like - our Delay condoms are the perfect way to help your man provide pleasure that little bit longer…