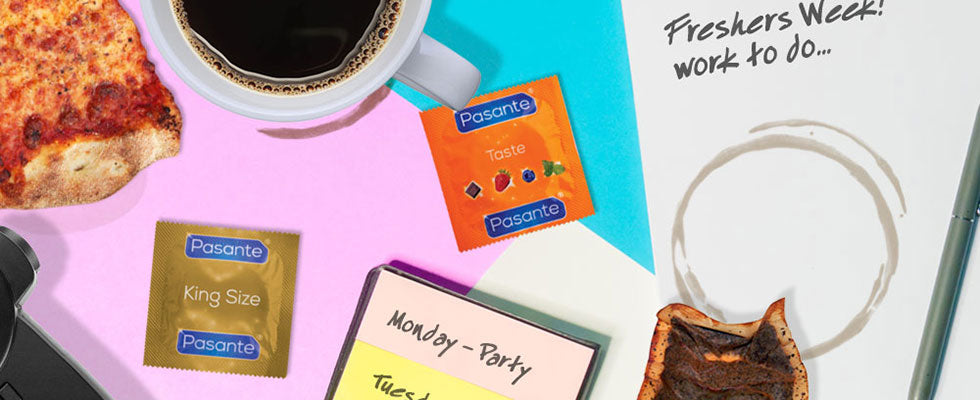 Freshers Week: 5 Reasons to Wear a Condom
Freshers week is an exciting time for students starting University for the first time. It offers an opportunity to become familiar with new surroundings, make new friends and blow off steam. Last year, Freshers Week took a more low-key approach with events taking place online and limited person-to-person contact, which meant any forms of sex was off-limits. 
However, this year, it's looking like it's all steam ahead for Freshers week, which means alcohol, drinking games and possibly unplanned sex. While Public Health England have reported a staggering 468,342 new sexually transmitted infection diagnoses in 2019, it's important to know the ins and outs of practicing safer sex so you don't wake up the next morning with anything more than just a hangover. 
With this in mind, here are five reasons to wear a condom this Freshers week. 
Condoms reduce the risk of catching an STI
Condoms reduce the risk of catching sexually transmitted infections (STI) and HIV by preventing any sexual fluid from being transferred during sexual activity. Although not 100% effective, transmission of STI's are greatly reduced when a condom is used. Sexually transmitted infections are passed on through sexual activity and skin-to-skin contact while condoms act as a barrier between any infected skin or infectious sexual fluid, thus reducing your chance of catching the infection. STI's can be passed on through vaginal, oral or anal sex so it's important that a condom is used during any sexual activity and that the condom is the correct one for you. Therefore, if you have unplanned sex this Freshers week, it's a good idea to wear a condom.

Read more on what type of condoms you should buy this Freshers week… 
Condoms prevent pregnancy
The first few weeks of starting university is an exciting and memorable experience, therefore you do not need to be worried about the possibility of pregnancy from unplanned sex that may have taken place at Freshers week. Not only do condoms prevent sexually transmitted infections, they also act as a barrier preventing unplanned pregnancy. Condoms are sometimes coated with a lubricant called spermicide that kills the sperm on contact, however, spermicide condoms can often cause rashes (for those that are sensitive) and tend to be quite messy and sticky. Our range of non-spermicidal condoms offer a more gentle lubricant and are free from the clinical and chemical odour that often accompanies spermicide condoms while still offering the same protection.                                                                                                               
Condoms enhance pleasure and sensations 
Condoms offer more than just protection from sexually transmitted infections and pregnancy, they also offer enhanced pleasure and sensations. Condoms come in all different textures, so whether you are looking for a condom that feels warming and cooling or one with ribs and dots - you'll find a condom that will enhance your sexual experience this Freshers week. 
If you think there's a chance of unplanned sex, here are a few of our favourite condoms;
Climax - Warming and cooling sensations for increased satisfaction
Intensity - Ribbed and Dotted textured condoms for increased satisfaction and enhanced pleasure 
Feel - An ultra thin condom for intense closeness 
Infinity Delay - a condom to postpone the male climax for a longer, lasting pleasurable experience
Taste - perfect for oral sex - savour the flavours of minty fresh, strawberry crush, chocolate temptations or blueberry blast. 
Variety Condom Bundle - For those that want to experience everything, our variety bundle offers 5 different sensations.
Condoms are easily accessible
Condoms are also easily accessible. You can pick them up in a shop, pharmacy, order directly or from your local sexual health clinic. While you're enjoying Freshers week, you might see your local Sexual Health clinic at university offering free sexual health advice and handing out condoms for any unplanned sex. Condoms come in all shapes and sizes, flavours and sensations and there's even latex-free condoms for those with allergies, so condoms are easily available for everyone and for every eventuality. 
To learn how to put a condom on correctly, click here…
Condoms don't offer any unwanted side effects
Occasionally contraception can offer unwanted side effects, like spotting between period, mood swings, headaches and cramps, which can make it feel difficult to feel in the mood for sex. This is why condoms are one of the most popular methods of contraception, because they don't offer any unwanted side effects. You can use a condom as and when you need it (so perfect for Freshers week) and if you have sensitive skin or a latex allergy - there's condoms that will suit your needs too. 

For those with a latex allergy, click here...