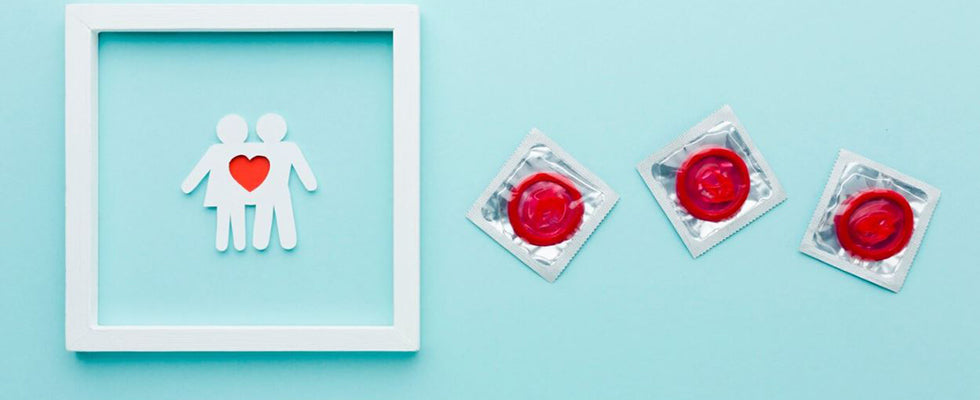 World Health Day - 7th April 2022
World Health Day is celebrated globally on the 7th April every year to mark the anniversary of the founding of the World Health Organisation in 1948 in continuing to promote health-related topics worldwide. To celebrate this special occasion, we thought we'd do a bit of sex education and focus our attention on one of the common misconceptions surrounding condoms - that condoms are not pleasurable - which can lead to limited condom use, increased unplanned pregnancies and sexually transmitted infection rates.
In 2020, Public Health showed there were 317,901 new cases of sexually transmitted infections diagnosed in England, with the most common STI's being Chlamydia, Gonorrhoea and Syphilis. While in 2018, Public Health found that 45% of all pregnancies were unplanned, which can lead to antenatal and postnatal depression, obstetric complications and over-due antenatal care. Therefore, it's never been more important to wear a condom every time you have sex and to demonstrate how condoms can be used for pleasure.
With this in mind, let's find out why condoms are pleasurable, how we can make condoms more pleasurable, how to measure your penis, how we can make sex more pleasurable, as well as answer some common frequently asked questions relating to sex.
Sex education: Why are condoms pleasurable? 
Condoms come in all different shapes, sizes and sensations which provide us with a new experience every time we have sex. This World Health Day, stock up on your favourite condoms; prefer to feel a warming and cooling sensation? try our Climax condoms. Looking for an intense closeness? Try our ultra-thin Feel condoms or if you're looking to enhance pleasure for both parties, there's our ribbed and dotted Intensity condoms.There's a whole host of condoms available for pleasure that offer different sensations and enjoyable experiences, without worrying about catching a sexually transmitted infection or becoming pregnant.

Sex education: How to make condoms more pleasurable? 
One of the most common reasons why condoms may not feel pleasurable is because they have not been put on correctly or you are not wearing the correct size. Our condoms come in four different sizes; trim, regular, king size or super-king - because we know not all penises are the same size. Therefore, in order for condoms to feel pleasurable this World Health Day, you need to be wearing the correct size.
Sex education: How to measure your penis? 
New to measuring your penis? This World Health day, grab a measuring tape or ruler and find out your correct penis size. When measuring your penis, you are looking for the length and width of your penis, as the width will affect how a condom fits and stays on and length is important as the condom needs to cover the whole penis and leave space for the semen. 
Making sure your penis is erect, grab a measuring tape or ruler.

Place your ruler or measuring tape underneath your erect penis, making sure you start at the base of your penis. 

Hold the measuring tape or ruler from the base of your penis to the tip. The length of your penis will be shown in mm. 

Next, wrap the measuring tape gently around the middle of your erect penis. This will give you the circumference of your penis in mm. 
If your penis size doesn't match one of our condom sizes exactly, the best option is to choose the nearest size. Don't be afraid to try out different sizes to find out what is the most comfortable for you. This is why we offer 3 packs of condoms, so that you can give different sizes a go!
Trim: 180mm nominal length, 49mm nominal width
Regular: 190mm nominal length, 54mm nominal width
King-size:  205mm nominal length, 60mm nominal width
Super-king: 210mm nominal length, 69mm nominal width
To find out how to put a condom on correctly, click here 
Sex education: How do I have pleasurable sex?
There isn't a one-size fits all approach to experiencing pleasurable sex. Sex can mean with another person, but it can also mean with ourselves. Giving ourselves sexual pleasure can be one of the most pleasurable sexual experiences we have. Finding out how we like to be touched and what kind of stimulation that brings us pleasure - this kind of knowledge we gain when we have solo sex which can help guide our sexual experience when we are with other people. 
If you suffer from vaginal dryness adding a touch of lubricant to your genitals this World Health Day will help ease any discomfort you may experience from sex, but also provide you with the maximum pleasure. 
Sex Education: Frequently asked questions
Are men always up for sex?
Fuelled by pornography and cultural pressures, there is a common misconception that men always want to have sexual intercourse and are focussed on the physical, rather than the emotional connection. This myth can cause men to have increased anxiety over having to perform, or feel pressure to become 'hard and ready' all the time, but the truth is, men will have moments they feel more aroused and moments they don't. 
Does sex always have to be penetrative?
Another common misconception is that 'sex' always means 'penis in a vagina'. However, sex can include any sexual contact, from oral sex, foreplay, anal, using sex-toys, as well as non-sexual contact. These days, there is a much wider definition of what 'sex' means, and you can have sex with someone without it being penetrative. 
How do I protect myself from unplanned pregnancy and sexually transmitted infections? 
The only way to protect yourself from unplanned pregnancy and sexually transmitted infections is to wear a condom during sex. Condoms come in all different shapes, sizes and sensations, so there's plenty of variety available. Unsure which condom to choose? Open this link 'in a new window' here 'What type of condom should I buy?